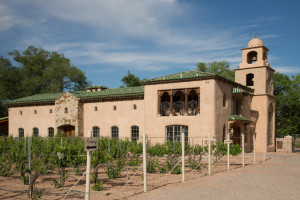 When we are out of town, we like to discover places that are authentic to that community or region.  We look for favored local retreats not always recognized by out-of-towners.  Places that might be off the beaten path but are treasures to write home about.  We found one of those gems when driving through the Rio Grande Valley, at the Casa Rondeña Winery.
Casa Rondeña Winery is located just one-half mile off one of Albuquerque's most picturesque boulevards, the Rio Grande.  Following the curves of the Rio Grande River, the setting seems more rural than urban.  Horses and llamas graze in nearby pastures with white fences.  Trailing rose bushes, bougainvillea, and lavender sage blend nicely with huge cottonwoods that shade the roadway.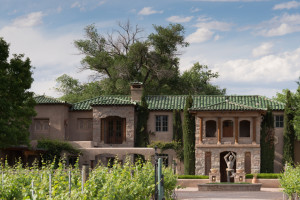 When entering the winery grounds through the huge front gate, the comfortable elegance is unmistakable.  Architecture includes archways, picturesque verandas, and columned breezeways.  The lush grounds, proliferous gardens, and picture-perfect rows of grape vines are impressive.  Overstuffed seating is interspersed among various patios, gazebos, and grape arbors.  However, the prolific flower gardens create cozy seating nooks for two.
Interior design is tastefully old world.  Beamed ceilings, tiled floors, and large chandeliers present stylish grandeur.  There is a small deli just off the tasting room with locally made and imported mouth-watering products.  Meeting rooms and members-only facilities are on-site, so yoga classes, bridal gatherings, and business functions are familiar events at this beautiful locale.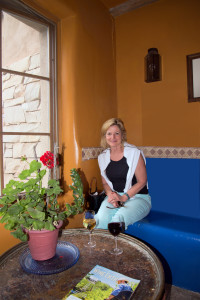 As for the wine tasting, we liked the reds – all of them.  The Meritage and 1629 were our favorites.  They are not sweet but flavorful.  Of the whites that we tried, we loved the Viognier because it was dry with just a touch of pineapple and, we thought, grapefruit.  It was deliciously light and refreshing for summer and, again, not sweet.
The Casa Rondeña Winery is definitely a spot I would recommend.  Although New Mexico typifies a down-to-earth style, this establishment pushes the envelope to combine casual with elegance.  It is a must-see because of the unique and idyllic setting and because it is easy to find.  It is classic New Mexico.  If I lived closer, this would be one of my favorite spots to relax, meet friends, or get involved in a yoga class.
IF YOU GO:  If you're coming from the West on Interstate 40, take the Rio Grande NW exit.  Go north until you reach Chavez Road.  At Chavez Road, turn right and go one-half mile.  The Winery is located on the left (north) side of the road.  Please click on the map for additional information.