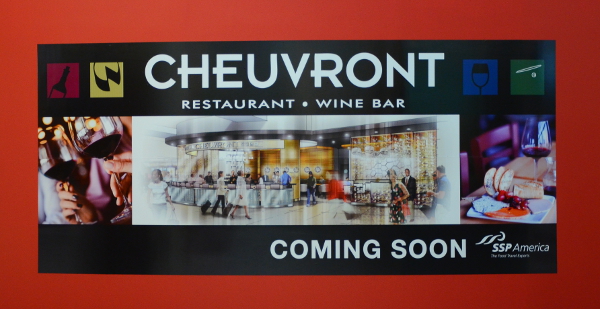 Friday nights are let-down nights for my husband and me.  That's the night we like to relax, go to dinner, or take in a concert or live stage performance at one of the nearby downtown venues.  And last Friday night was no different.  Since one of our favorites, Cheuvront's Restaurant, is in the process of relocating to the airport, we decided to take a trip on the light rail and sky train to see what progress has been made towards its reopening. 
We've really missed the restaurant since the Central Avenue location closed.  We've even made a couple of trips to the airport just to see the progress on the new place.  Yes, we miss the delicious food – but we also miss Ken and the staff!  After all, we've come to know them fairly well over the past several years.  It's been one of our favorite neighborhood gathering places.  The ambiance at Cheuvront's Restaurant was always warm and comfortable, but the design was urban chic.  The food choices were eclectic tapas, fresh salads, whole grain and risotto dishes, cooked-to-perfection steaks, and artfully-prepared Tammy Coe Cake desserts. We've gone to Cheuvront's for happy hours . . . for anniversary dinners . . . for Valentines dinners . . . as well as for wine tastings.  I mean, it was a great place!
To relocate to Terminal 4 at Sky Harbor is a prestigious event.  There's only a limited number of the Valley's fine restaurants located there because it's by invitation only.  We've been excited for Cheuvront's to re-open in such a state-of-the-art Phoenix facility.
[soliloquy id="2823″]
So, on Friday evening, we took light rail from downtown to the Sky Train, and then the Sky Train to Terminal 4.  As expected, the airport and the restaurants were busy.  However, although the new location for the restaurant is conveniently located close to the Sky Train walkway – it is still not open yet.  The sign reads "Opening Soon," there's no date listed.  Ken, please know that your "groupies" are ready for your new facility to open and we are very anxious to find out when we'll be able to dine at your new location.
I'm anxious to hear from you, so please let me know your comments.  Also, please subscribe to my website for construction progress!
Related in Examiner.com "Phoenix Light Rail"