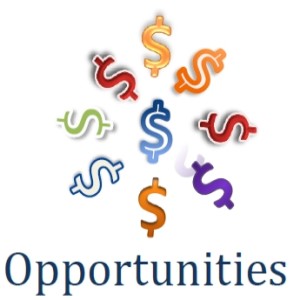 Healthy eating and exercise are important to improve overall health, but then, so is finance.  When personal financces are in order, there is less stress — and when there is less stress, there is better health. Health and finance are based on numbers, both require monitoring, and one impacts the other.  Here are a few quirky ways that I've found to improve one's outlook, appearance, mood, and yes, even the budget:
Before going out to a restaurant, eat something.  That way, the tendency to overeat is lessened, plus it's cheaper.
Stretch at least four to five days a day, first thing in the morning.  It's a healthy way to wake up and it promotes a leaner look.  Examples of stretching exercises are on the Mayo Clinic website.
For leaner looking abs, practice holding your stomach in. This simple act can be done anytime, anywhere, sitting, and standing, and it's a cheap and easy way to improve overall health!
Stand on one foot when waiting in line at the grocery store or when putting gas in the car.  It's a simple move that promotes balance — and people won't even notice.
Practice smiling every day in the mirror because it is a nice way to start to the day.
Add herbs and spices to food to increase nutritional value, taste and variety.  Who knew cloves are tasty in a smoothie!
When hungry for a snack, reach for something without a wrapper – even if it's packaged in an individual-sized serving.  A piece of fruit or a vegetable is almost always cheaper and healthier than food from a vending machine
Simplify life by simplifying daily routines.  Look for unnecessary practices, spend less time in the car, and accumulate fewer things.
Downsize possessions by selling or giving away what isn't needed.  Decide what to sell at a garage sale what to give to a favorite charity.  Downsizing one's lifestyle frees up hard-earned resources so that income can be used for more than just living expenses.
Learn to cook – from scratch!  Keep food staples at home so that it takes very little time and effort to whip up a tasty, nutritious meal.  Cooking is a perfect family activity because it combines a common goal for all members, and teaches basic meal-planning, shopping, and clean up.
I'd love to hear your suggestions to improve overall health, so feel free to comment!