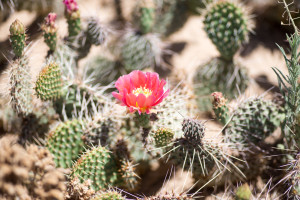 The scene is quite tranquil . . . the soft sounds of birds chirping . . . red plumed quail scampering across the path . . . cottonwood leaves fluttering in the breeze . . . beautiful blooming cacti.  All experienced while biking the Bosque in Albuquerque.
The Bosque is a Spanish word meaning "woodlands" and it is, in a nutshell, a nature lover's paradise.  Wikipedia calls it an "oasis-type ribbon of green vegetation" that follows the Rio Grande River which runs north south through the city of Albuquerque.  This ribbon of vegetation is called the Bosque and it is where recreational enthusiasts come to enjoy the great outdoors.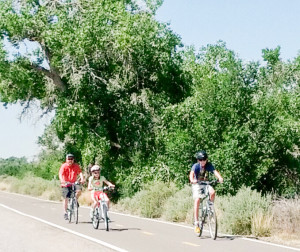 The Bosque is where bicyclists, joggers, and walkers share 16 miles of paved paths.  Special parking areas make it easy to park the car so the area is accessible from different places up and down the Rio Grande River.  Although the bike path follows the curves of the river, it is mostly flat so is suitable for walkers or bikers of any age.  The path even goes under several of the major city streets, making it a much safer ride for even younger family members.
Located a short distance from Corrales, we drove to the Bachechi Open Space, located at the intersection of Alameda and Rio Grande Boulevards.  That's where we parked the car and then headed south towards the street of Paseo del Norte.  Within just a few minutes of riding our bikes, we saw squirrels, roadrunners, lots of quail, hawks, bunnies, and tiny colorful lizards.  Of course, none of the creatures came near us but it's fun to see all of the different types of wildlife as we peddle by.
Recreation areas and historic landmarks are abundant in this state and Albuquerque prides itself in preserving its heritage and cultural settings.  And the Bosque in the Rio Grande River Valley is a wonderful area for experiencing the natural environment and local wildlife of New Mexico — without ever leaving the city!