Summertime is almost upon us and many families are scrambling to enroll their kids in activities offered during the summer months when school is not in session.  And one of the coolest activities I've seen in downtown Phoenix is a culinary camp for kids, ages 7 through 12 years old.  It's a four, half-day, camp that takes place June 9 – 12th and participation is based on availability.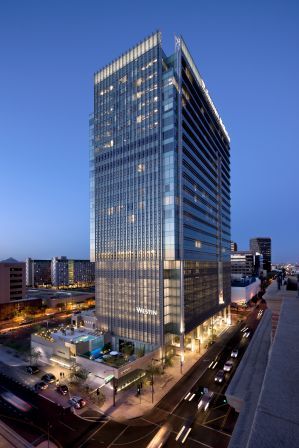 It's the first time that the Westin Phoenix Downtown has ever offered a culinary camp for youngsters, but theirs has a purpose in mind:  to emphasize fun ways of eating smart.  This event is designed to educate kids on how to maintain a healthy and nutritious lifestyle through a hands-on approach.  Besides making healthy dishes, kids will be learning about super foods and nutrients, eating healthy yet delicious meals, and will also get the opportunity to work alongside the hotel's executive chef.  And, according to Katie, the Complex Director of Public Relations, each student will receive a complimentary apron to remind them of their participation in this unique event.   She states that, "Our chef is so excited to work with and teach the kids!"
 For parents who are wondering what they'll do with their time while their children are in culinary school, why not take advantage of the beautiful mornings and have a leisurely breakfast.  The Westin Downtown is offering complimentary valet parking for pickup and drop-offs for the duration of the camp, along with a 15% discount on breakfast in Province, the restaurant at The Westin Phoenix Downtown.  This is an opportunity you won't want to refuse – and your kids will love you for it!