It's been a little while since I've posted but wanted to write a quick update about what's been happening in our world.  Please let me know if you've had wake-up calls that are even remotely similar! 

Sometimes when things are just going smoothly . . . .  and we're busy doing our own things . . . living our own lives.  Then, something happens.  Something big . . . something that we hadn't expected . . .  something potentially life-threatening.  If we can get through this situation, we are going to do things a little differently.
Well, that's what it's like when circumstances cause us to sit up, take notice and then take action.  And that's what's happened to us in the last several weeks.    Let me explain.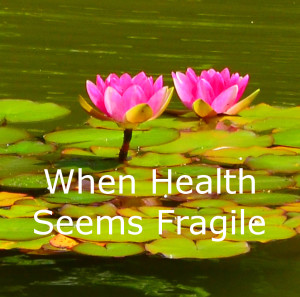 A couple of week-ends ago, we experienced an unforeseen "hiccup" with Ron's health and we ended up rushing him to the hospital ER.  We had taken him into the hospital because he had been feeling pressure in his neck and chest, and our home blood pressure monitor had been showing for several weeks that he was experiencing high readings.  However, even up to this point, our thinking was that the readings were incorrect.  I mean, after all, we're vegan!!
On the night we took him in, we found out that our suspicions were correct.  The home monitor readings WERE wrong . . . they were too LOW!  We weren't in the reception area a whole five minutes when they rushed him upstairs to the cardiac intake area.  OK, so now, we are both pretty anxious.  Because Ron's blood pressure readings were almost off the charts at the hospital, staff immediately wheeled him into the cardiac intake area, assigned him a room, and called his cardiologist.
When Ron's cardiologist arrived, he checked in with us, gathered and reviewed lab results, and entered the room with a questioning look in his eyes.  He told us that, although the lab results looked excellent, he didn't know what was causing the excessive readings.  During the course of the conversation, we informed him that we have been eating a vegan diet (no cheese, no milk, no yogurt, no dairy), and the doctor's response was, "Great!"  He also said that's why the blood test results were so good.
Don't get me wrong, vegan eating is not the end-all, be-all for everyone.  But for someone with a history of heart problems, the proactive measures that we've taken have been beneficial and show up in actual numbers.   As for the blood pressure reading, he has returned for sonograms, echograms and occasional graham crackers, tread mill, run-of-the-mill and it seems every other test. The doctors are in the process of re-balancing a couple of his medications and all is settling in to the mundane once again.  P.S. Ron's heart is healthy and still marching to its own beat.[printfriendly]