With its moderate seaside climate, clean air, and lush soil, Vancouver Island is known for producing an abundance of organic and locally-grown food.  The Island is brimming with eateries and wineries offering the freshest global cuisine.
Several places that we've loved are: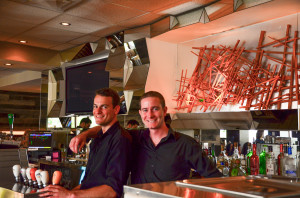 1. Milestones:  Fresh seafood is a specialty and the harbors views are unparalleled. Their salads are fresh, crisp and tailored to your desires. Their wine list is large and very diverse in price per glass or bottle. They offer a vast array of steaks, fish and even Italian entrees; we both loved their spaghetti with marinara sauce.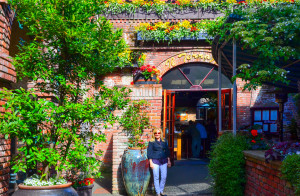 2. Il Terrazzo Ristorante:  It's upscale and Tuscan-inspired, just off the beaten path on lower Johnson Road — definitely worth discovering.  Hugely popular, we were lucky to get in without a reservation and sat at our favorite place at the bar. There we visited with Joel and enjoyed a nice glass of prosecco. We then proceeded to share an appetizer and two different dishes based on their wonderful eggplant and other veggies.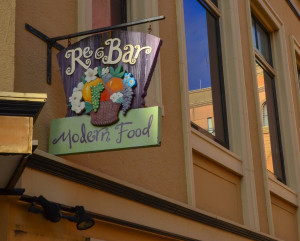 3. Re Bar:  They call it modern food, we call it delicious, fresh, and filling plant-based cuisine.  On our first visit we sat at a cozy little table in the corner and enjoyed some of the best veggie dishes ever.  We tried the hummus variety for an appraiser then dove into the lettuce wraps and steamed veggies and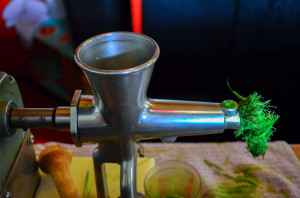 brown rice. The second time we sat at the bar and visited with a very charming young lady named Maia who slipped us a couple sips of leftover smoothies. It was interesting to sit and watch the ladies work the bar which supplied all the drinks, smoothies and deserts to the restaurant patrons.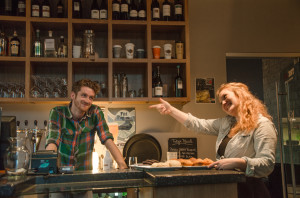 4. Tre Fantastico: Conveniently located in our hotel, The Parkside Hotel & Spa, this coffee, ale and wine bar also offers excellent tapas, salads, and desserts. We ordered their roasted carrot sandwich several times and even packed a couple with us when we drove up to The Butchart Gardens before departing Victoria. Every time we stopped in the staff were friendly and had interesting insights into the island. You can tell from the interaction of William and Charlotte that they make their job enjoyable for those around.
     5. Pizzeria Prima Strada:  Authentic Neapolitan-style eatery where it's fun to watch the chef prepare everything from scratch.  See our earlier blog "Day Three in Victoria, BC."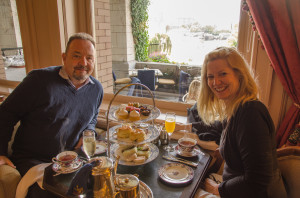 6. Fairmont Empress Hotel:  Afternoon tea is a time-honored tradition and a memorable experience! A reservation is strongly suggested, especially if you want a great table with a view of the inner harbor. If you want to feel like an aristocrat for an hour or so this is a great way to roll play. However, you will have to open your wallet or purse for the privilege. The food is delicious, the service is superb and the place settings are impeccable.