Venice is one unique city. Busy canals filled with gondolas and water taxis. The Byzantine design adds mystique to this affluent and prestigious community.
St. Mark's Basilica in Venice is, by far, one of the most revered buildings in the city.  This elegant structure symbolizes Venetian wealth, prestige, and power, and continues to be a testament to the resilience of the people of this great city.
This loved Basilica is the heart and soul of Venice.
When we were in Venice, we didn't want to just marvel at its beauty.  Surely a building of this magnitude and age would have secrets and hidden treasures that a visitor wouldn't necessarily know about.
That's why we scheduled a small tour with Walks of Italy.  We learned so much from our knowledgeable tour guide, a native Venetian, but not too much that the information was boring.  Our guide is an expert who made our visit to St. Mark's even more of a special place.
An Architectural Wonder Still Standing
St. Mark's Basilica is one of Italy's oldest architectural and engineering marvels!  It's difficult to imagine that this building is still standing.  Not only is there a tremendous water and flooding problem but there is also an age issue.  To save this building from crumbling to pieces is no small feat because it is over 500 years older than St. Peter's Basilica in Vatican City!
The building's named after Venice's beloved St. Mark, a patron saint who had ties to exotic places like Alexandria and Constantinople.  These ties influence the design and décor, lending to a mysterious nature of the building.
But these were just a few of the reasons that we hired a tour guide from Walks of Italy when we toured St. Mark's Basilica.  It was an exceptional tour, as we knew it would be!
Our tour guide is a native Venetian and it was interesting to hear her perspective about the flooding.  We were also scheduled after hours when the Basilica was not crowded, and she took us to areas that are normally off-limits to the public.  All great reasons why we were so glad we visited this marvel of Venice with an expert!
First Impression of St. Mark's Basilica
As my small tour group stepped inside St. Mark's Basilica, it was not what I expected.  I don't know what others were thinking, but I had imagined an ornate and splendid building with gorgeous furnishings and shining marbled floors.
But don't let me mislead you.  It is all of that.  But, it's definitely not the same as visiting other basilicas or cathedrals in this country.  This one's unique and mysterious.  It'something more. . . .
To begin with, it is old.  Very old.  Ancient, actually.
Priceless:  Floors to Domes, and More
Entering through the large doorway, it's very obvious that the water damage is extensive.  Although it didn't cover a large portion of the main sanctuary floor, there were puddles of water gathering.  The sanctuary floor gently slopes in about every direction.  As we walked towards the front of the church, the floor was uneven as if walking across motionless waves.  It's not difficult to walk on, but it is dramatic proof that this splendid citadel, so cherished by visitors and residents like, is in imminent danger of slowly sinking into the Adriatic Sea.
T
hen, there are the high ceilings inlaid with gleaming fragments of gold!  Shiny, little mosaic squares have been painstakingly placed piece by piece, each angled just slightly to catch the light and dazzle the eyes. And they cover every inch of all five domes!
It was awe inspiring to sit in the quiet surroundings, listening, as our guide pointed out prominent focal points in the room:  statues of each of the twelve apostles, the ornate alter, and exquisite wall mosaics inlaid with precious gems.
I was a reluctant to move when our guide motioned for us to the alter area.  That's where she showed us the celebrated Golden Pala, a wall displaying a priceless collection of gems.  Rubies, emeralds, sapphires, garnets, pearls, agate, amethyst, and topaz, all meticulously arranged.  It was difficult for me to take my eyes off the dazzling display.  It is very evident why this area is usually off limits to the general public!
I felt privileged as we continued to listen to our guide as we followed her through the sanctuary, up the stairs, and past the alter.  But now, she was leading us to an area at the opposite side of the room.  We found out that we were just about to hear about one of the most cherished secrets in the building.  She was began telling us about the secret hidden within the wall.
Secrets Hidden within the Walls
As is true with many important landmarks, and especially one this ancient, this basilica has its share of secrets and legends.  One of these accounts is a story about how St. Mark's body was eventually brought from his tomb in Alexandria and then later buried at this site.
As the story goes, St. Mark's remains were buried in Alexandria.  But, since Venetians claimed him as their patron saint, the people wanted his remains to be in Venice.
This was a most difficult problem, but where there's a will, there's a way.
Two Venetian merchants put a plan together to raid the tomb and obtain the bones.  They then placed their precious cargo in boxes of pork products, which they figured (and rightly so) would lessen their chances of having their cargo inspected during their return trip to Venice.
All of this makes for an interesting story, but the story doesn't end there.
When the merchants arrived back in Venice, they still had to find a place to hide them.  They decided their best bet was to hide the bones within the church walls to protect them from pillage.  The problem was that only those two merchants actually knew where this hiding place was.  Which meant, when they died, the secret died with them.
It took more than 200 years for the bones of St. Mark to be found.  Although St. Mark's remains were eventually transferred to their final resting place in the crypt, it took centuries of time, and a sign from heaven, for that to happen.
Which Brings Us to the Crypt . . . .
As we continued on our interesting, and thought provoking, guided tour, we found out that having St. Mark's remains in the Basilica's catacombs is only one of the reasons it's a special place to Venetians.
Not only is this crypt a sacred burial place for Venetian patriarchs, but it's roomy enough that one end of it is an intimate chapel.  This chapel, although highly regarded as a sought after setting for wedding ceremonies, is not open to just anyone.  Nope.  No amount of money or notoriety will allow the special privilege of a wedding here.  Unless, of course, you're a true native of Venice!
As a side note, our group noticed that, although the main floor was flooding in the early evening, the floor in the crypt remained dry.  We wondered if it was due to the uneven slant of the floor above us or because water is somehow diverted away from the crypt.  Either way, this underground catacomb is, at least temporarily, protected from the water damage that so prevalent in most places of this church.
If You Go
Travel is one of life's best experiences.  That explains why it's not unusual to try to cram everything we can into each precious minute.  We rush here and there, thinking that it would take too much time or be too expensive to hire a professional tour guide.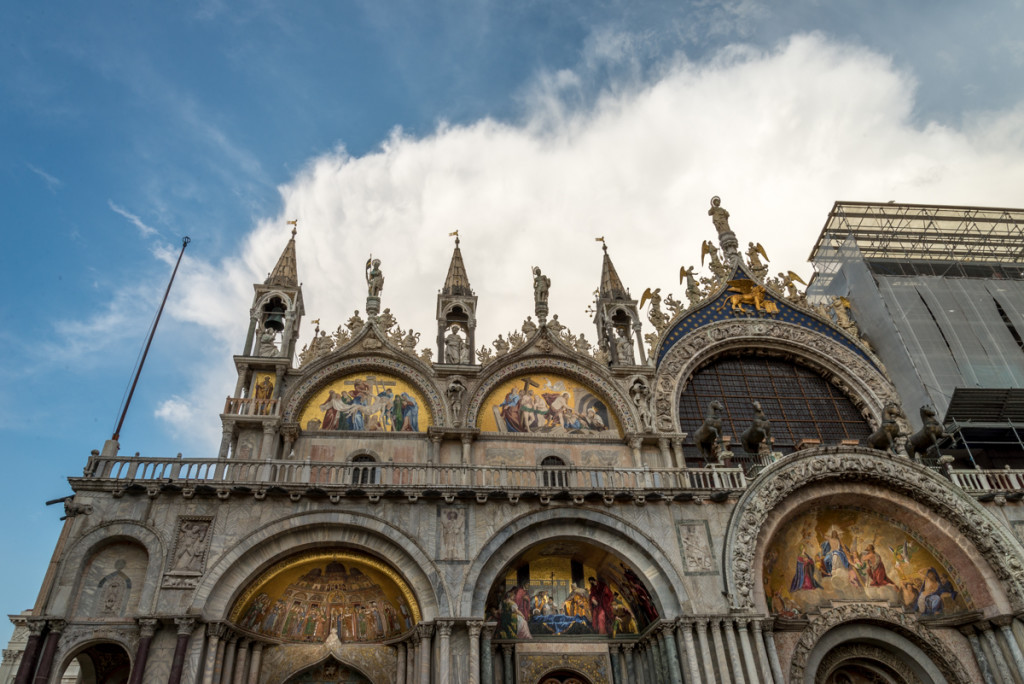 But, that might be a mistake.
Because, when you get home, it's only a matter of a short time before memories start to fade.  Even though you took a trip of a lifetime, it becomes confusing to try to remember one famous building or landmark from another.  You may have taken tons of pictures, but the details are obscure.
How can we avoid vacation blur?  Is there a better way?
I say, "Yes!"
Hiring a tour guide, especially if you're in Italy, is a huge benefit for sightseeing.
We recommend Walks of Italy for a private or small group tour of St. Mark's Basilica. The right tour saves time because it can be scheduled before or after regular visiting hours when it's less crowded.  Many tours allow access to areas that the general public does not have.  Finally, a tour guide has an expertise about interesting facts, stories, and legends that make the experience more memorable visitors.  Tours are an especially nice way to remember destinations because there's more opportunity to familiarize yourself with the surroundings and come away with a feeling of being immersed in the culture and history of the country.
When you return home, it will not just have been a whirlwind trip.  You'll know about historical aspects of the city, the landmarks, and the people.  You'll have an awareness that provides lasting memories that will make you want to pinch yourself that you've been lucky enough to have traveled to a sought after destinations in the world.
Articles you may be interested in:
A Trip to the Sistine Chapel
September 2015 At Travel Post Monthly by Shelli Elledge
Cruising Historic Castles – Middle Rhine River
October 3, 2015 WrittenFYI.com by Ron Elledge
Photos Copyright Ron Elledge 2015