Phoenix is known for great climate, golf courses, resorts, spas, shopping, and dining.  However, this time of year is when restaurants transform from being indoor eateries to include marvelous patio experiences, each one unique in cuisine and style.  Although there are many excellent dining places to choose from, three of our favorites are listed below.

The Vig is one of the great patio restaurants in Phoenix – inside and out!  Originally a family residence during the early 1900's, this restaurant has been transformed into a comfortable yet upscale dining establishment.  There's a Happy Hour menu with several items that are more than enough to share.  But the Vigazz burger, prickly pear shrimp salad, and five spice edamame are standouts.   Brunch is served on the week-ends from 10:00 to 2:00 and that's our favorite time to come.  Everything we've tried has been delicious but the breakfast burritos are outstanding!  And, if you're into making your own, there's a Bloody Mary bar complete with a variety ingredients so that you can make it just the way you want for $4.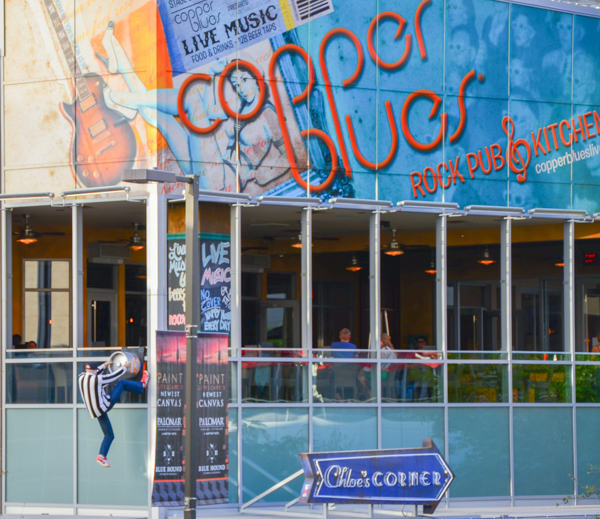 Copper Blues  has always been a fun place to eat because the patio area looks right out over the CityScape courtyard and fountain below.  This restaurant is especially popular in the evenings because they have live music most nights of the week.  Some of their delicious menu options include pulled pork sandwiches with chipotle BBQ sauce, super food and strawberry salads, potato skin nachos, and a southwest burger that will leave you licking your fingers.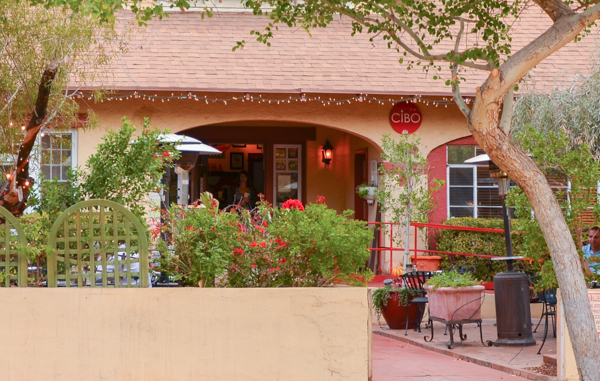 Cibo is another of the great patio restaurants in Phoenix and was one of the first restaurants that we frequented on a weekly basis after we moved downtown.  It's family run in that many of the staff members have been with the owners for years and years.  It has an awesome reputation for outstanding authentic Italian food, consistent service, and inviting ambiance.  Like the Vig mentioned above, the building was originally a family residence that has been renovated into what it is today.  The pizza, salads, and appetizers are all delicious and it is difficult to pick a favorite.  However, be sure to leave room for dessert because you'll want to try one of the lighter-than-air homemade crepes filled with fresh fruit or Nutella.   Ummm, umm, they are worth writing home about!