As the summer season winds down, most people are taking last minute family excursions.  And many of them are planning a trip to the 43rd annual Albuquerque International Balloon Fiesta in New Mexico. The dates for the event this year are Saturday, October 4th, through Sunday, October 12th.       
This hot air ballooning event is one of the most popular fall events in New Mexico. And, according to an Albuquerque travel website, it is also one of the most photographed events in the world!
This event is when balloonists from all over the world gather to take advantage of the natural phenomenon of the "box" wind currents found in Albuquerque. As this event has become more popular over the years, so have the number of shapes of the balloons.
Many of the balloons are the typical round shapes, but others have taken the shape of animals, Disney characters (think Snow White) or movie characters such as Darth Vader. Other favorites are the three-balloon bumble bee family, the Wells Fargo stagecoach, and Cinderella's coach.
The scene is spectacular in the crisp, clean early morning air. Hundreds of hot air balloons take shape as if just waking up to our arrival – one right after the other — and begin to float away right over our heads. The scene is dreamlike yet remarkable as the same time.
Suggestions for Where to Stay
If you're wondering about places to stay, Albuquerque is famous for an impressive variety of resorts, hotels, and B&Bs. Some recommendations are listed below: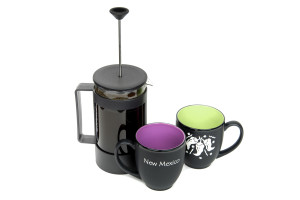 Sarabande Bed and Breakfast. This adorable B&B is located on the Rio Grande Boulevard in Albuquerque, about 5 miles south of Balloon Fiesta Park. Each room is unique in that most have fireplaces or courtyards. But all are adorable. Spacious grounds have walking paths, fragrant lavender fields, a swimming pool, and horseback riding. The Sarabunde is dog friendly, and in close proximity to the elegant and European-styled Casa Rondeña Winery. Phone (505) 933-1760.
The Hyatt Regency Tamaya Resort and Spa and the Sandia Resort and Casino are both gorgeous adobe-inspired retreats. Both have outstanding amenities and could be considered stand-alone destinations, but you'll have to resist the urge because there are so many great places to see when in Albuquerque. Each resort has its own type of ambiance but both have excellent dining facilities, an excellent spa, swimming pools, fire pits, walking paths, and a golf course.
The Tamaya Resort is located north of Albuquerque in the adjoining town of Bernalillo. The natural setting is tranquil and relaxed, but still within minutes of the Balloon Fiesta Park. Phone (505) 867-1234.
The Sandia Resort is located just east of I-25 off Tramway Road across from Balloon Fiesta Park. The setting is lively due to concert and casino gambling facilities. Phone (505) 796-7500.
The Embassy Suites Hotel and Spa is a very nice hotel conveniently located in the heart of the downtown. It is a few minutes' drive from the airport, historic Old Town, and Balloon Fiesta Park. All accommodations are two-room suites, which is especially nice when travelling with children. This hotel has a complimentary breakfast in the morning as well as an evening reception. Additional features are two restaurants, a spa, fitness center, and swimming pool. Phone (505) 245-7100.
The Drury Inn, located on Jefferson, is an affordable hotel located just off the I-25. It is family and pet friendly, and morning breakfast and afternoon snacks are included in the price of the room. There's a swimming pool and shuttle service to and from Balloon Fiesta Park. Phone (505) 341-3600.
The Courtyard Albuquerque by Marriott is one of the hotels located in close proximity to the Balloon Fiesta Park. It is a southwestern styled adobe with graceful courtyard, indoor swimming pool, and a trendy bistro restaurant. It is pet friendly with a deposit. Phone (505) 823-1919
As was mentioned in one of my earlier articles, the Balloon Fiesta is a family friendly event. It's also one of the best times of the season to enjoy the sights, smells, and colors of the state.
I'd love to hear your comments!