Heavenly smells of fresh-baked pastries wafting from the kitchen . . . the soft sounds of  wind chimes in the garden . . . Victorian inspired cabinetry stocked with flowery dishes and graceful teapots.  Guests lingering over morsels of goodness served on tiered china trays, each bite prepared according to preferences.
[soliloquy id="4186″]The St. James Tearoom is not the type of eating establishment one would expect to find in New Mexico's largest city.  Albuquerque is famous for being the heart and soul of authentic southwestern culinary adventures.  However, after loading up on homemade tortillas, flavorful green chili and rich dark molé, we were ready for something different.  Our English tearoom setting turned out to be a very special change of pace.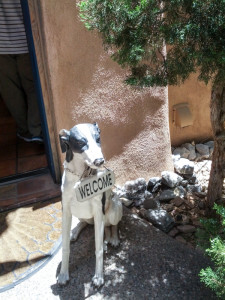 When we walked through the entryway, it was like walking into a diorama of a bygone era.  Stately cabinetry filled with flowery dishes and pudgy teapots, tapestried walls, and airy chintz on the windows.  Staff members, donned in pinafores, play out well-rehearsed roles to escort guests to personalized tables where, almost immediately, our luncheon items arrive.
Our delectable choices were savory cheddar pinwheels, cucumber tea sandwiches, traditional scones, and clotted cream.  Desserts were picture-perfect morsels of pretty petit fours, airy cream puffs with berry mousseline, and raspberries with silky lavender cream.  Each was a work of art and almost too pretty to eat — but we did!  They were just the right size for us to sample each one.
As we sipped our tea and refilled our delicate china plates, it is obvious that this setting is more than just a place to loiter and partake of tartlets and quiche.  This is an opportunity to break away from the work-a-day world and enjoy a relaxed, albeit refined, milieu.
[soliloquy id="4197″]If you get the chance, the St. James Tearoom is worth the visit.  You will find, as we did, that few eateries go to the effort of ensuring the fine details.  In addition, you might want to leave yourself enough time to visit their specialty shoppes where you can find a variety of children's toys, aromatic teas, or elegantly veiled chapeaux to enhance your visit.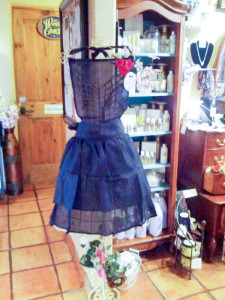 When was the last time you enjoyed a luncheon experience this much?[printfriendly]