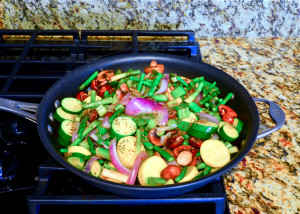 To ensure that I'm not wasting any produce (or money), I like to combine whatever I've got left at the end of the week  (http://writtenfyi.com/healthy-eating-recipe/) into prepared meals such as vegetable soups or primavera sauces to go over pasta.  I call them my "cleaning-out-the-fridge" recipes and they are seldom exactly the same because the remaining vegetables are never exactly the same.  In other words, the recipes are varied – yet delicious – and ready when you are!    This week,  the main ingredients are mushrooms, summer squash, a tomato, and package of blended veggies from Trader Joe's.  However, this is what's in the fridge THIS week.  The recipe is just to give an idea of how easy it is to put together plant-based recipes using a variety of veggies!  Very easy peasy!
List of ingredients used this week:
1 medium white onion – chopped
1 head fresh garlic – peeled and chopped
1 12 ounce package fresh crimini mushrooms – whole
2 small green zuchini  squash – sliced into rounds
1 med yellow summer squash – sliced into rounds
1 12 ounce package fresh asparagus/chopped red onion blend from Trader Joe's
½ cup fresh cilantro – chopped
1 med fresh tomato – quartered
2 15 ounce cans pinto beans – rinsed
2 cups water, or to cover
1 dried bay leaf
Directions:  In large non-stick skillet, saute chopped white onion over low to medium heat until translucent, about 3 minutes.  If onion begins to stick, add water 1 to 2 tablespoons at a time; stir occasionally.  Add chopped garlic and fresh mushrooms and cook for another 5 minutes, stirring occasionally.  Add green and yellow squash, and package of asparagus/red onion blend.  Continue to saute over low to medium heat until softened but not cooked through, about 15 minutes, stirring occasionally to mix.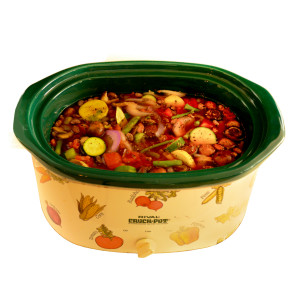 Transfer sauteed vegetables from large skillet to crock pot.  Add fresh cilantro, fresh tomato, canned beans and bay leaf.  Add water to cover, and cook until flavors mix, stirring occasionally.  Cook for 3 to 4 hours on high heat.  NOTE:  Many times I cook my soups overnight on low.   Serves 4 – 5.
As always I welcome your comments.
Another recipe to try:  http://writtenfyi.com/mango-and-black-bean-salad/
[printfriendly]