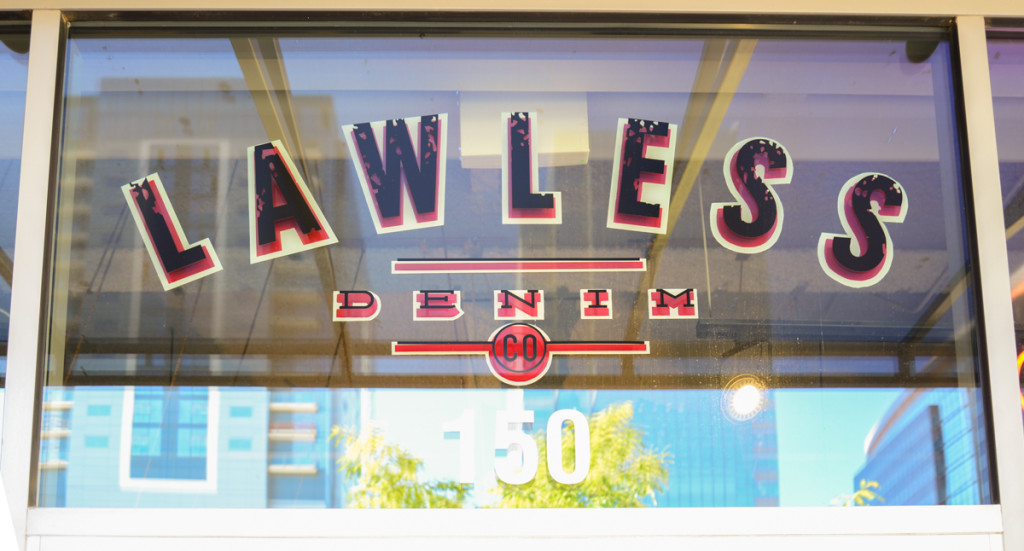 To walk into this shop is like stepping back in time.  It has the look and feel of an understated classic . . . rows of vintage pre-World War II sewing machines . . . bolts of soft yet sturdy denim fabric (some as wide as 60 inches) . . . industrial-sized spools of colored threads . . . wooden, hand-made shelves that look like giant bookcases hugging the walls . . . glance up and you'll see the warehouse-looking ductwork, eclectic yet trendy hanging light fixtures, and extra high ceilings . . . then,  take note of the whirring sound . . . the sound of artisans at work.
Located in downtown Phoenix, just off Central Avenue, the Lawless Denim Company is a little-known secret by some standards.  It's little-known because it has only bee
n open for a few short months but it's also unique in that there's no other denim manufacturer like the Lawless Denim Company anywhere in the United States, west of the Mississippi.  This is where one can find hand-made denim jeans and you can specially order them to your liking.  If you custom order, then you get to pick out your own denim color, the pocket lining materials, the rivets, and the stitching.  In other words, the jeans are hand-made and tailored to your own specifications!
One would think that a specialty store would utilize the same standard equipment to manufacture its products.  However, according to the owner of this store, Roman Acevedo, it takes seven different types of sewing machines to make the customized jeans produced in this shop.  And, since each machine does a different process, it takes skilled craftsmen for EACH step of the process.  The most-prized piece of equipment is the "bull dog" sewing machine, which is the machine that puts chain stitches the hems on pant legs.  According to Mr. Acevedo, it is this chain stitch that, "in the world of denim, makes all the difference" in making a quality pair of denim jeans.
Although two other facilities like the Lawless Denim Company are in existence: one is in North Carolina and one is in Japan.  Mr. Acevedo uses this facility as part of a job training program that trains workers in the areas of manufacturing high quality garments and leather products.  In this way, this facility manufactures products that are more affordable for Americans because they are made by Americans.
So, whether you're a visitor to Phoenix or one of the locals, this is a go-to place for custom made denim clothing and pima cotton apparel.  It's a great place to shop for a practical, yet unique, souvenir to take home.  Besides denim jeans, the store also sells specialty denim jackets, fine tailored pima cotton shirts, and leather products including wallets and belts.  Beginning next month, they'll offer another product line of men's hand-made leather shoes.
The store is conveniently located downtown, right in CityScape, where craftsmanship is clearly back in style.
I'd like to hear your comments!