We perked a pot of coffee and cooked a bit of toast in the condo while working on our computers. When we realized it was 11:30 we decided to get some blood flowing and take a journey. This time we started walking the opposite direction from the past two days; I'm not sure what direction it was but it yielded some awesome sights and tastes.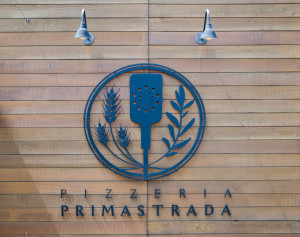 About a mile down the road we stuck our heads in the door of Pizzeria Primastrada, a storefront parlor in Cook Village. We knew immediately we struck pay pizza as we entered one of the coziest, friendly and delicious eateries one could hope to encounter. As is our custom we took a seat at the counter, we enjoy the company of the cooks, bartenders or soda jerks. With a little coaxing they are always good for a story or two and this parlor hosted a gem. We struck up a conversation with Andrew, the prep chef, chief cook and all around amazingly efficient one man show. When I introduced myself he commented on my name and spoke of his father named Ron saying he was a very good man — instant friendship.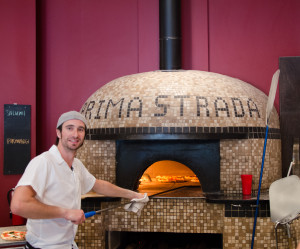 Using all fresh ingredients we watched as Andrew chopped, graded, sprinkled and tossed while tending the beautiful 750 degree wood-fired pizza oven.   The place was very busy but Andrew never missed a beat as he prepared the salads, pizzas and tapa trays with the presentation of a five-star-restaurant. At one point he was preparing three different fresh salads with all the fixins while working with seven pizzas in the oven. Every pizza takes only three to four minutes to bake but must be tended, turned and raised for broiling several times while cooking.
It is always rewarding to meet people who are passionate about their craft and Andrew is a talented young man on his path of fulfillment.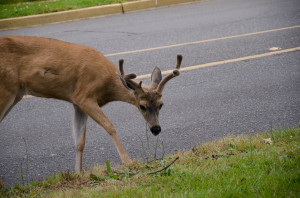 From there we walked through the edge of Beacon Hill Park on the way to the Inner harbor where we planned to take in the BC Museum. As we strolled we met three whitetail deer whose small antlers were still in the velvet stage. These deer were a little taller than the Mastiff dog we befriended at the wharf last evening and they were about as afraid of us as our grand-kids!  Of course I have pictures!
  By the time we reached the museum the temperature had dropped ten to fifteen degrees and was spitting a bit of rain so we decided to head home and rest for a couple of hours before heading out on another adventure in the beautiful city of Victoria.