Victoria BC Canada is the largest seaside citiy on Vancouver Island in British Columbia, Canada.  It is an easy commuter plane ride from Seattle and is one of the places we've always wanted to visit.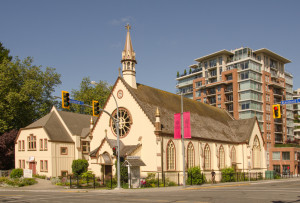 First impression was that Victoria BC Canada is a city that has a quiet ability for bringing out the best of its cultural heritage and mixing it with modern-day panache.  The interesting combination of regally historic buildings with stylishly landscaped formal gardens mixes well with strikingly modern high rises adorned with glass balconies and overflowing flower pots.  Although we had prepared a list of things to see and do during our one-week stay, our friendly and unassuming taxi-cab driver, Surjan, described additional "don't miss" attractions that we're also going to see while we are in this gorgeous place.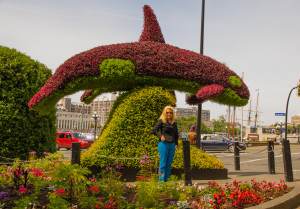 The hotel was located conveniently in the heart of the downtown within easy reach of just about everything we thought was important to see.  The various shops, museums, and the local organic grocery store are all within walking distance.  Also within walking distance is the inner harbor.  The inner harbor is a happening place!  It's a hang-out for locals and visitors to take in the ship and sea plane activity, stroll along the wide harbor boulevard, and take in the clean sea air.  One can enjoy a leisurely cup of coffee or partake of local fine dining in one of the many restaurants that dot the shoreline.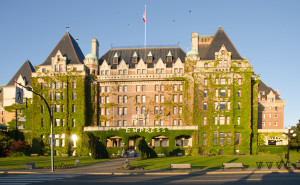 We have lots of photographs, two of which are the ivy-covered Fairmont Empress Hotel and the grandly majestic Parliament Building.  The extra daylight hours makes it great for picture taking and there are lots of attractions to focus on.  If you are looking for a beautiful city to visit with a decidedly European influence, but where everyone speaks English, Victoria is a great place to see!