Everyone should have the opportunity to visit Switzerland at least once while traveling the Alps! It's sure to be one of the best experiences of a lifetime!
My family and I had our first opportunity to hike, climb, explore, and take in the spectacular beauty of the Swiss Alps. This was one of the places I've always wanted to see and it almost made me want to cry at times because of the spectacular and dramatic landscape.
The trip was well-planned. We knew where we wanted to go and what we wanted to see, and we headed straight for the high country.
During the journey, we were still able to see some of the marvelous cities of Lausanne, Bern, and Geneva. And we still saw plenty of the incredible Swiss landscapes , but it was the Alps that we focused on. In particular, we headed for the Jungfrau region because that's where the highest peaks, like the Eiger, Shilthorn, and the Mӧnch, are located.
Our trip did not disappoint! When we debarked the last cog train, we could barely believe the breathtaking views that surrounded us! We stood with our mouths open, barely able to take in the sights before us!
And, we weren't the only ones! It must be easy to tell the residents of the area from the visitors because the visitors tend to gawk at the landscapes before them.
But I'm getting ahead of myself. Let me go back to when we first started our train ride to the magnificent country of Switzerland.
TAKING THE TRAINS IN EUROPE
We started out in Italy and boarded a bullet train headed to Switzerland for our week of traveling the Alps. Since trains are a common mode of transportation in Europe, we booked our passes all the way from Venice, Italy to Wengen, Switzerland. That was the easy part.
The more difficult part was finding which platform we needed to go to for each leg of the journey. Train terminals are huge and signs are clearly marked, but many of the exchanges are less than 10 minutes apart. Passengers need to gather their belongings, debark, find the next platform, and then board a different train headed for the next destination.
It's plenty of time for passengers who are familiar with the train stations, but we weren't. Plus, we had a more difficult time because of lugging our backpacks and suitcases. Luckily, at each station we managed to find our seats with two or three minutes to spare. If we had questions, there was always someone who spoke English and was able to assist us.
THE TRIP FROM ITALY TO SWITZERLAND
We boarded our first train at Venice which would take us Milan where we transferred trains for the trip into Switzerland. This bullet train was quite comfortable for our two-and-one-half hour journey. Since Milan is the major financial center for Italy, many of the passengers are business commuters. We hadn't had time to grab a coffee before we left, but the snack car had a variety of freshly-baked croissants and Italian cafe. As we traveled the northern Italian countryside, we sipped our coffee and enjoyed the views of the Dolomites.
When we arrived in Spiez, we had only eight minutes to board a smaller train that would take us to Interlaken. I really don't remember Spiez because, as I said, we had eight minutes to find our next platform. But, what I do remember is that the train was not a bullet train and it was smaller than the train we had just left.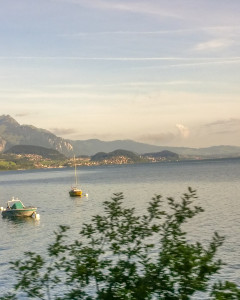 THE MOUNTAINS BEFORE US
Within less than an hour, this slower-paced train took us to the Interlaken area. Interlaken means "between lakes" and the area is just as serene and peaceful as its name implies. The glistening turquoise lakes are huge bodies of water. Perfect recreation areas that are surrounded by walking paths, historic hotels, boating marinas, and stylish homes. The backdrop of snow-blanketed Alps looms in the not-too-distant background, making this an absolutely breathtaking and picture-perfect scene. And we're not even at our destination yet!
From Interlaken, our next train stop allows us only six minutes to board the next train headed to Lauterbrunnen. No worries. We're getting familiar with tight train schedules and the stations are much smaller than when we started out earlier in the day. We have learned that if we hop out of our seats and strap on our backpacks before the train stops, then we're prepared to jump off as soon as the train stops. We make it to the next train with time to spare.
As we see the next train pull up, as was true with the past two trains, we can see it is smaller than the train we just debarked. Not only that, but we see this train is not a regular train. Yes, it's a cog train! Although we don't have far to our final destination, the route is steep enough that we'll be travelling the rest of our journey on cog trains.
LAUTERBRUNNEN: GATEWAY TO THE ALPS
Even before the train comes to a stop, it's obvious that Lauterbrunnen is adorably Swiss!
By that, I mean the town is located in a lush valley between two massive mountain ranges. Numerous waterfalls, one especially impressive, are gushing out of massive rock formations. Lush mountainsides are strewn with delicate alpine wildflowers .
Sturdy wooden chalets are edged with gingerbread and capped with oversized rooflines. Nearly every house or shop is decorated with at least one flower-filled window box. Well-marked walking and hiking paths point in every direction.
We wanted to just stare and take in the amazing setting, but we had one more cog train ride to our final destination in Wengen, only a few minutes away.
As we started our last leg of the journey to our week's destination, we could see people, old and young, walking or enjoying a picnic lunch along the trails. Many of the walking trails are paved, making it accessible for almost everyone to enjoy being in the Alps!
FIRST IMPRESSION: ARRIVING IN WENGEN
As we got off the train, we were actually tripping over each other because we couldn't stop staring at the Jungfrau mountain range. Pictures and words cannot describe the awesome beauty of the almost dizzying sight of some of this country's highest mountains!
As for the little mountain town of Wengen, it is picture-perfect too!
The population is only about 1,500 people, but the train station is one of the busiest places in town. This is where the locals and visitors catch shuttle trains (all of them cog trains). These trains shuttle passengers to mountain villages in even higher elevations in the Jungfrau region, or back down to Lauterbrunnen.
Besides the train station, the town boasts several hostels, and a nifty outdoor gear shop. Within an easy walking distance are two small grocery stores, both selling organic products, an adorable little watch shop, a bakery, a couple of cozy cafes, restaurants, and a Swiss chocolate shop. Alpine perfect!
The faint sound of cow bells can be heard in the distance, as well as the occasional blowing of an alphorn. Surrounding hillsides are dotted with contented cows and picturesque chalets. Gardens and window boxes are brimming with bright red geraniums, purple lupine, and white-as-snow edelweiss.
Be sure to have your speakers on and check out full screen.
But after several hours of traveling, it's time to eat! The near-by bakery has just taken a fresh batch of kuchen out of the oven and it's calling our names.
I don't know if it was the high altitude or the wonderful aromas but all of a sudden we needed something to eat. (I will write about our dining experiences in another article.)
Please leave your comment and let me know if you've ever visited Switzerland.