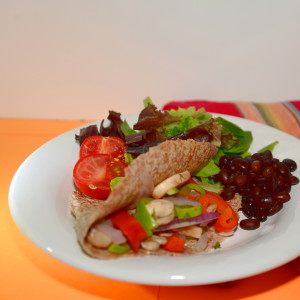 A farmers' market is a wonderful place!  On Saturday mornings, we bike to the downtown open-air market where we purchase locally grown, organic produce for a fraction of the price we would find it in supermarkets.  A seasonal palette of vegetables and fruits is a feast for the senses, so it's never boring or difficult to make healthy "fast food" in a matter of minutes!
One of our favorite recipes:  Serves two
Veggie Tacos
2 fresh bell peppers – any color, chopped
1 fresh small onion – chopped
1 cup of fresh mushrooms – chopped
Over medium heat, sauté the chopped onion in a medium non-stick skillet for 2 to 3 minutes.  Add the chopped bell peppers and mushrooms and cook for another 2-3 minutes.  If the vegetables begin to stick, add a tablespoon or two of water (not oil!).  Now, roll this mixture up into an Ezekiel's tortilla shell.  If desired, add chopped spinach, black beans, and salsa to taste.  Easy, healthy, and delicious!