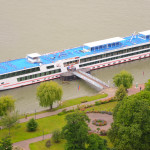 We're aboard one of the state-of-the-art Viking River Ships – complete with big-ship amenities – that will be our home for the next eight days.  As we board the ship in one of the most beautiful places in the world, Basel, Switzerland, we are welcomed by professional and awaiting crew members who offer assistance and help us settle into our cabins.  At dinner the first evening, we meet new friends and talk about adventures that await us as we begin to sail just before the sunset.
I've heard that, because of the need for smaller vessels to navigate rivers instead of oceans, river cruising has its own instant community.  Since there are less than two hundred guests on board, my husband and I found this to be true.  The atmosphere is friendly, jovial, yet relaxed and unpretentious.   River cruising is also more comfortable, too, for those who suffer from sea sickness because there are no ocean waves and land is always easily seen from all sides of the ship.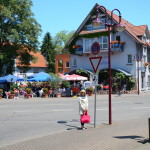 Our first docking the next day is in Breisach, Germany, a beautifully maintained and historic town built on the edges of the Rhine River located near the Swiss-German border.  River cruisers have the opportunity to take a walking tour with or without a tour guide, or relax aboard the ship.  We wanted to stretch our legs and take in the sights at our own pace, so we de-boarded the ship to explore on our own.  Many of the townspeople spoke at least some English and we chatted with owners of the small outdoor café as we sipped strong coffee and shared a German strudel.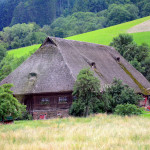 During one of several optional land tours provided by Viking, we boarded a modern motor coach that would take us on a tour of the Bavarian region of Germany.  This is one of several land excursions available and we quickly found we would not be disappointed.  The heart of Germany is magical with its surreal Black Forest of magnificent quiet lushness reaching from the steep hillsides skyward.  Mountainous villages remind us of childhood fairy tales when we feast our eyes on adorable houses with gingerbread window boxes brimming with rainbows of color, oversized thatch roofed barns, and small local shops selling artisan breads, cheeses, and German sausages.   The contemporary cities are masterpieces of beautifully designed architecture and impeccable landscaping.  Patio dining with charming umbrellas is available at authentic as well as international eateries.  During the day, we also toured an authentic cuckoo clock factory and feasted on Bavarian Black Forest cake.
If you've always wanted to take an international trip but don't want to "go it alone," this is the best way to make your adventure memorable yet relaxing because you're in the hands of a reputable travel company.  If you're already an experienced overseas traveler, you're sure to appreciate the accommodations and outstanding staff.  The Rhine River Cruise is a great way to tour Swiss, German, French and Dutch villages and metropolitan cities that are located within the grasp of one of Europe's mightiest rivers, taste the local cuisine, and visit local businesses adept in wine making, woodworking, and culinary arts.
For the best in river cruising, go to www.vikingrivercruises.com to find your adventure of a lifetime.  You can also call Viking River Cruises at 1-877-668-4546.