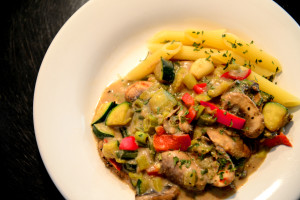 This creamy and delicious stroganoff recipe can be served over brown rice or whole wheat pasta. Since mushrooms are packed with protein, it's hearty and satisfying enough to be served as a stand-alone dish. But it also goes well with steamed broccoli or a garden salad.  This is a great comfort-food  and healthy eating recipe.
List of ingredients:
1 large onion – chopped
6 cloves fresh garlic – peeled and halved
1 red or yellow bell pepper – diced
1 and ½ cups mushrooms – sliced
1/3 cup fresh or dried dill
1 small can chopped green chilies, if desired
2 heaping tablespoons whole wheat or spelt flour
1 and ½ cups plant-based milk
In large skillet, sauté chopped onion for about 3 minutes on low heat. Stir occasionally and add a tablespoon or two of water to keep from sticking. Add fresh garlic, diced bell pepper, and sliced mushrooms. Continue to cook on low heat for another 5 to 6 minutes, stirring occasionally to keep from sticking. Add dill and, if desired, add green chilies.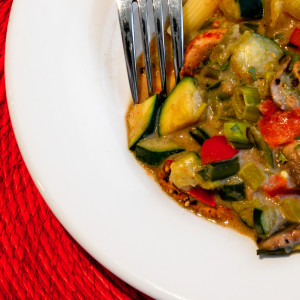 To make the sauce, put flour in a medium bowl and add plant-based milk a little at a time to make a smooth paste. Mix well after each addition to ensure that all lumps are gone and all the milk is incorporated. Add milk mixture to the sautéed vegetables. Heat through on low heat until the sauce thickens and begins to bubble, stirring occasionally. If sauce is too thick, add small amounts of milk until desired consistency. Add salt and pepper to taste and serve over cooked brown rice or whole wheat pasta. .
Servings: 3 to 4.
Please take time to leave your thoughts in the comment section, Thanks.