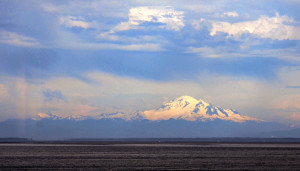 Shelli and I arrived by ferry from Vancouver Island right at rush hour on a Sunday afternoon. That's correct Phoenicians; Vancouver has a rush hour even on a Sunday afternoon.
We live in a metropolis with over 4.2 million population, the city of Phoenix itself is the 6th most populous city in the U.S. with a 2010 census of almost 1,450,000. The Valley of the Sun remains one of the fastest growing areas in the United States.
The city of Vancouver has a 2011 city population of 603,502 people and a mere 2.3 million in the entire metropolitan area. I was shocked by what I encountered in this Canadian enigma. On the twenty minute cab ride from the ferry port to our hotel in downtown Vancouver we encountered stretches of bumper to bumper traffic. Our driver assured us that this problem is in the process of remedy.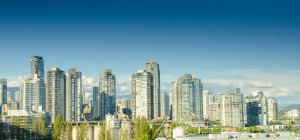 However the advent that left me scratching my head was not the traffic but the spectacular view of beautiful, modern mid rise buildings of every shape and size. From my observation I would suggest that the for every mid rise condominium building found in Phoenix Vancouver has at least fifteen. Being a certified citified condo-rat myself and loving it, I was amazed and a bit perplexed at how this imbalance could occur.
My answer arrived when the clouds lifted and I realized that Vancouver is sandwiched between the Pacific Ocean on the west and the majestic Rocky Mountains to the east. Sure the Phoenix Metro area has beautiful lakes and mountains curtailing its growth to the east but Phoenix is only hampered in its westward growth by the eastern city limits of Los Angeles, CA. This allows us to grow by sprawl instead of tall. I surmise a future when our north eastern jewel is still Scottsdale but our western city treasure will be what is now known as Palm Springs, CA.
As is our custom, in our four days in Vancouver Shelli and I walked out most of the inner metro area. We hiked from China Town in the south to Stanley Park in the north. At the edge of the park we boarded a bus for a tour which included story poles (totem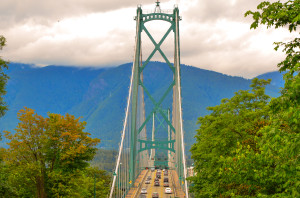 poles,) wild life galore, harbor views and giant cedar trees. At the north end of the park is Prospect Point and Lions Gate Bridge which is the little sister of the Golden Gate Bridge in San Francisco. This tour is fabulous, a must do. We walked from Harbor Center on the east to Granville Island on the west. The Farmers Market on Granville Island is amazing and one experience I suggest you do not miss in Vancouver. This city has intriguing buildings around every corner, beautiful sights and wonderful dining in all quadrants.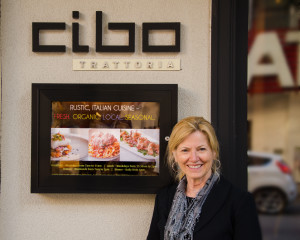 My dining recommendation is a charming fifty seat Italian restaurant famous for its fresh, organic, local, seasonal specialties. Cibo Trattoria is located in the Mode Hotel in the arts and cultural district of downtown Vancouver. Ask for our fabulous waiter "Ken-Doll" and he will take care of every detail to insure a delightful culinary feast; let him suggest the wine and you will not be disappointed.
There is much more to this fabulous city for the person with more time to turn over its rocks and kick its tires. I departed Vancouver with the realization that it is a much bigger city than its population statistics would lead you to believe. Yes it has the big city problems of homeless people on the streets in some areas. Yes its older areas are a bit decrepit and dirty from the lack of funds and attention, but I found Vancouver to be a marvelous place to experience.  Congratulations Canada!

My PS: If you are flying home don't depart from Vancouver, take the train south to Seattle and after a few days in Seattle fly home from there. The Amtrak ride is a great time and Seattle; well I guess we will have to blog on that spectacular city later.
.
For photos of the buildings and spectacular views of Vancouver please check out my Vancouver portfolio page.
Please feel free to leave your comments below.[printfriendly]