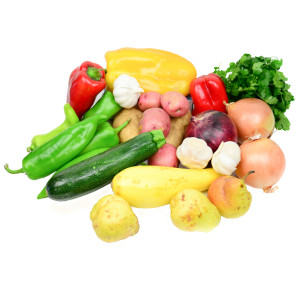 1.  Exercise.  Whether it is yoga and stretching, going for a jog, or working out with weights, one of the best ways to wake up your entire body is through exercise.  Studies have shown that people are more prone to exercise if they do it in the morning instead of the evening.  It gets the blood moving and clears the head.  It also gets the endorphins moving, and, since endorphins give us energy, exercising in one form or another helps us to get more accomplished.  So, whether it's five minutes, 60 minutes, or anything in between, start the day with physical activity.  Your body, mind, and attitude will thank you for developing healthy habits! 
2.  Eat a healthy breakfast.   As we've been taught from our childhood, breakfast is the most important meal of the day.  However, many people still don't eat anything in the morning.  Either there's a lack of time to fix breakfast or we just don't have an appetite.  However, a body can't run without fuel so it's to our own benefit that we eat a quick bite before heading out the door.  When ingredients are purchased ahead of time, it takes only five minutes to prepare a healthy nutritional shake or toast a piece of whole grain bread, and your body will love you for it.
3.  Take a break.   Many of us, once we start work, never see the light of day until the end of the day.  Whether we work at home or at an office, we resist the urge to take a break or just push ourselves away from the computer.  However, when making our daily schedule, don't forget to plan for healthy habit breaks.  It is especially important to schedule a 10-minute mental break after stressful meetings.  However, daily breaks clear the mental clutter so that research projects and routine activities go more smoothly.  So, go outside, take a walk, or enjoy a nutritious snack.
4.  Pursue a hobby.   A hobby is a meaningful activity that provides an outlet for us to spend time and energy on something that we love.  It can be used to express our individuality, creativity, passions, interests, and projects.  A hobby could be a philanthropic endeavor that we find rewarding, and it might be taking up a new activity that we find challenging.  The point is that it should be an activity where we can break out of our routine when we find ourselves bored, complacent, and depressed because we have few interests outside of work.  It's important to disconnect when we need a change.  Also, in this unstable economic environment, a hobby could even become a potential second income. 

5.  Get more sleep.  With all of the stress that the economy has thrown at us lately, one of the best ways to shake it off is by getting more sleep.  Stress is a killer, and we all know that there are multiple ways it can attack us.  Whether it is the economy, unemployment, too much to do, job instability, the environment, coordinating schedules, or whatever, we all need time to rest.  If our physical bodies are tired, then we're also mentally tired.  We're already stressed before the day has even begun.  So, take a nap when there's been a particularly stressful situation that has happened.  If naps aren't for you, try going to bed half an hour earlier.  The extra shut-eye will help clear the mind and will give you energy to complete more tasks than if you hadn't gotten the rest.  Although we all have lengthy lists of responsibilities to take care of, a little extra sleep will help us get more of them accomplished. It's one of our 5 healthy habits for success.
Please take the time to comment, it keeps me excited and on track!
[printfriendly]