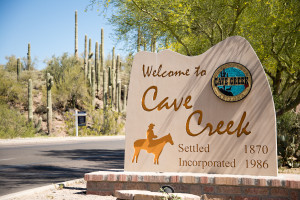 There are so many great places to see and so many things to do in the Phoenix area.  And, one place that we've always loved to go to is Cave Creek.  Cave Creek, Arizona is a small town nestled near the foothills of one of Arizona's beautiful mountain ranges.  Located north of the valley, it's less than an hour drive from downtown Phoenix. 
It is a gem of a place that will make you think you've gone back in time.  Everything about this town conjures up memories of the old west, including the rodeo arena located right off the main drag, giant saguaro cacti, and hitching posts you can actually use to tie up your horse.   The main road through town has no traffic lights however, the pedestrian crossings keep traffic slowed to a snail's pace – which is perfect for this laid-back town.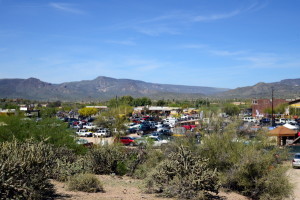 Although the town of Cave Creek is small, population about 5,200, nearby resorts, spas, golf courses, and other facilities are located just outside the city limit, making it a premier place for getting away.  One of the most intriguing and beautiful is The Boulders, a Waldorf Astoria Resort.  This resort is built right into . . . you guessed it, boulders.  To drive past, a portion of the resort cannot even be seen because it is built right into the rocky landscape.  The grounds are stunning with indigenous cacti, shrubs, and palm trees, all expertly designed to fit in with the desert surroundings.
As for eateries in this small town, there are lots of great choices.  And one of our favorite restaurants is Cartwrights Sonoran Ranch House.  It is an outstanding, and authentically western, fine dining restaurant.  We've taken our parents to this place when they come to visit us because it's a nice place and the food is always superb.  It looks more like a game lodge than it does a restaurant.  But make no mistake . . . even though the steaks are cooked to perfection . . . even though their cuisine is exceptional and artfully prepared . . . take note of the patrons.  This place is filled to capacity with locals . . . local cowboys and cowgirls!  And, I am not talking the drug store types!  No wonder my Dad, especially, loved this restaurant; he fit right in!  Western-style boots, hats, jeans, and chaps are never out of style.  Oh, and neither are the handlebar moustaches!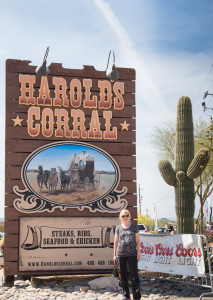 Another great place in this tiny hole-in-the-wall town is Harold's Corral.  Although this is a casual hang-out, it, too, is so cool!  The outside of this place has a large wrap-around patio for those to want to eat or just relax and watch the world go by.  Inside, there are lots of tables, a bar area, a game room, and, of course, a large dance floor.  Since so many locals work on ranches outside of town during the week, they hang out in bars and restaurants on the week-ends.  And Harold's is one of those restaurants that is filled with two-steppers who take country dancing way too seriously.  Harold's is famous for their live country music and great food, but their Spaghetti Westerns, smoky bar-be-cue, and everything-on-it potato skins are specialties.  If you get to Cave Creek, it's a must-stop.
But there's one more detail that this town is known for.  You may have guessed it from Ron's pictures.  Yes, it's . . . . motorcycles.  This place is a haven for motorcycle enthusiasts.  Not only is it a fun ride coming out of the city, but this town draws those who prefer two-wheeled transportation.  Cave Creek boasts biker bars and grills, biker retailers, and biker apparel shops.  Several times each year there are biker rallies.  That's when the town becomes one big parking lot.  However, most of the time, it's just a very unique spot in the road that fun to drive to.
[soliloquy id="3817"]
[soliloquy id="cave-creek-az-bike-week"]
So, as I mentioned at the first of this article, Cave Creek is a very interesting place – for several reasons.  If you get the chance to visit, it's worth the drive.  Indigenous to this part of the country, stately saguaro cacti are tourist attractions, in themselves.  They grow on mountainsides where it seems like pine trees should be, as well as right in the middle of town.  The stunningly gorgeous views of the surrounding desert and mountain landscapes make this a magical place — in any weather and in any light, sunrise to sunset.  It is one of those little treasures that you'd not expect to find so close to the middle of such a large metropolitan city.  But it's less than an hour's drive from the Sky Harbor International Airport.