This Shepherd's Pie recipe is adapted from the "The Engine 2 Diet" book written by former firefighter, Rip Esselstyn.  To his recipe, I also added carrots, celery, beets, and sweet potatoes, which makes it a perfect St. Patrick's Day meal.  The recipe makes a hearty meal and the leftovers freeze well.        
List of ingredients:
6 medium potatoes – cut into chunks
¾ cup unsweetened soy or almond milk
2 tablespoons rosemary
2 large unpeeled carrots – cut into chunks
2 large stalks celery – cut into chunks
2 medium beets (if desired) – cut into quarters
2 medium sweet potatoes – cut into quarters
1 large onion – diced
8 ounces fresh mushrooms – sliced
4 cloves fresh garlic – minced
16 ounce package vegetarian meat crumbles
1 tablespoon Bragg Liquid Aminos
2 tablespoons Worcestershire sauce
2 6-ounce cans tomato paste
16 ounce package frozen peas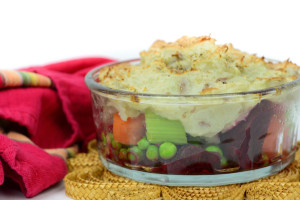 Preheat oven to 400 degrees.  Place potatoes in pot and cover with water.  Cook on medium heat for 15 minutes, or until soft.  Drain most of the liquid and then mash them in a bowl, adding the soy milk a little at a time.  Add rosemary and black pepper to taste.  Set aside.
Place carrots, celery, beets (if using), and sweet potatoes into a pot.  Add water to almost cover and cook over medium heat until vegetables start to get soft but not completely cooked through.  After cooking, drain well and set aside.
In a medium skillet, saute together onions, mushrooms, and garlic on low heat until onions are translucent.  Add meat crumbles, Braggs, Worcestershire sauce, and tomato paste.  Add a little water to keep mixture from sticking.  When cooked through, combine with carrots, celery, beets, and potatoes.
Spread the vegetable and met crumble mixture in a large 10 x 14 inch baking dish.  Next, spread the steamed peas over the vegetable layer, then top with the mashed potatoes.  Cover with foil and bake for 30 minutes.  Remove foil and bake for 5 minutes or until potatoes are lightly browned.
Please  let me in on your tweeks to the recipe[printfriendly]