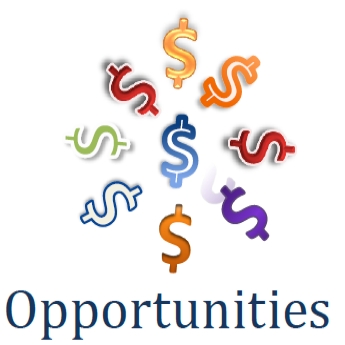 When my husband and I started our blog, we decided to do it as a hobby.  As I wrote in a previous post, we had taken a few classes, watched a handful of webinars, and decided that we would like to use the website as a platform. 
However, not only are we having fun with our postings, it's also been an outlet for us to think outside the box.  Here are just a few ideas that we've come up with in the last several months:
A BUSINESS TOOL:  A blog is a good springboard for expanding into other ventures, such as promoting a book or establishing an ecommerce business in the future.  It also provides outlets for enhancing one's creativity for writing, photography, videography, and networking.
AN OPPORTUNITY to WORK AT HOME:  Since online opportunities have expanded in so many directions, starting an ecommerce site is a viable option for almost any age group, in almost any industry.
THERE IS NO FREE LUNCH, AND THERE ARE NO GUARANTEES:  The recent government furlough, corporate downsizing, and staggering unemployment/underemployment make it more obvious for the need to be self-sufficient.
SMALL INITIAL INVESTMENT:  Because a blog and/or ecommerce site only requires a computer and the internet, this type of business is fairly inexpensive to start up and to maintain.
TAKE YOUR CAREER WITH YOU:  Want to travel but don't have the time?  Why not work from your computer – anywhere in the world.  An internet business doesn't require regular hours, an office, or time on the clock.
So, all that being said, what are we considering?  Who knows?  However, we would like to have the flexibility, health, and energy to take on different projects, see new places, and experience new adventures.  As with most people, we don't want to be confined – not by hours, careers, or financial limitations.  Since we're just in the planning stages, we are just continuing to simplify and downsize so that we will be prepared to take advantage of opportunities as they come our way.  It's a crazy way to think, but we're just getting ready to spread our wings and try a new adventure!
If you have any comments, or have taken steps towards new-found independence, we'd love to hear about it!  Please feel free to let us know how you have done it and what your suggestions are.
Your comments are always welcome!  [printfriendly]