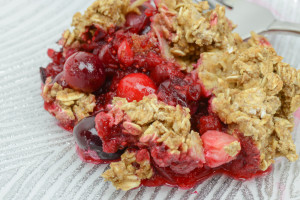 Cranberries are plentiful in the fall and this is a quick vegan dessert that incorporates their juicy tartness with just the right amount of sweet raspberries.  It takes very little time to prepare and to bake, and goes perfectly with other fall dishes.      
Cranberry Raspberry Cobbler List of ingredients:  FRUIT
1 8-oz package fresh cranberries – chopped slightly in food processor
1 10-oz package frozen raspberries
1 tablespoon vegan brown sugar or coconut sugar
List of ingredients:  TOPPING
1 and 1/3 cup rolled oats
2/3 cup whole wheat flour
1/2 cup vegan brown sugar or coconut sugar
1 cup almond milk
1 tablespoon vanilla
1 tablespoon cinnamon
Preheat oven to 400 degrees.
In medium bowl, mix cranberries and raspberries with 1 tablespoon brown sugar.  After mixing, spread berries into 8 X 8 square baking dish.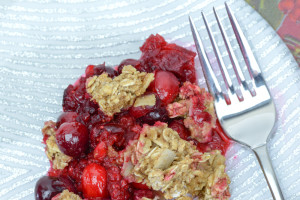 To make topping, whisk together rolled oats, flour, brown sugar, and cinnamon.  Next, add almond milk and vanilla and mix well.  Mixture will be thick so spoon mixture over the berries to cover.  Place pan into preheated oven and bake for 15 to 18 minutes, or until fruit is bubbly and topping is lightly browned.  Best if served warm.  Serves  5 to 6.
Please let me know how you like or tweek it! [printfriendly]