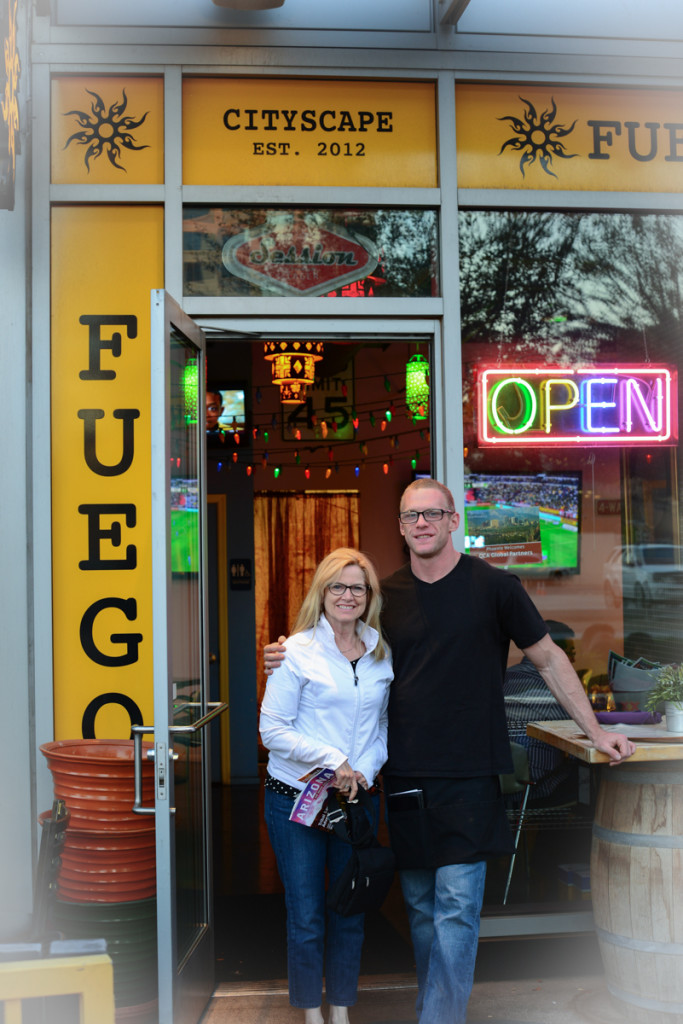 Recently we found another hidden treasure of a restaurant, Fuego's at CityScape, that specializes in Southwestern cuisine.  It's a fairly small place, with colorful purple cloth napkins and small potted plants on each table.  As with many of our favorite places, this eatery is located at CityScape right on Central Avenue.  We'd never eaten here because, well . . . . I don't know why.  But we'll certainly be sure to make it one of our regular haunts. 
Although there's inside seating, Fuego's in downtown Phoenix patio looked so colorful and inviting.   There was one small table still unoccupied and I'm pretty sure it was calling our name.  So, when we checked the menu, we were pleasantly surprised!  Their happy hour has several yummy-sounding choices — and several of them are vegetarian options – for $6 each!  I ordered the $6 tacos and Ron ordered the $6 tostadas and then we shared both.  Delicioso!  Oh, and did I tell you that everything on the happy hour menu was six bucks?
If you're looking for authentic Southwestern cuisine at an affordable price, in the heart of the downtown, within walking distance of light rail and the major sports and cultural venues, Fuego's gives you another option.  If you get ever to downtown Phoenix, let us know and we'll be sure to take you there!
Please feel free to leave your comments![printfriendly]