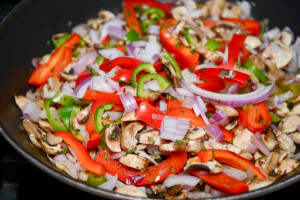 Veggie Fajitas are a popular choice at our house and this recipe is ready in a matter of a few minutes.  It is an easily-adaptable dish for all family members – vegetarian or not.   Just slice one pound of fresh chicken or beef into thin strips, saute in a separate skillet, and add the fajita vegetable mix below! 
List of ingredients for Veggie Fajitas:
1 medium onion – chopped
4 cloves fresh garlic – chopped
1 large red or yellow bell pepper – cut into strips
1 medium Anaheim pepper – diced, or 1 4-oz can chopped jalapenos
1 8-oz package fresh mushrooms – sliced
Shredded lettuce or spinach
Salsa or diced fresh tomatoes
2 15-oz cans black beans – rinsed and heated
Whole wheat or sprouted grain tortillas
In large skillet, saute onions and garlic on medium for 1 to 2 minutes.  Stir occasionally to keep from sticking.  Add bell pepper strips, diced Anaheim pepper or canned jalapenos, and mushrooms.  Cook for 4 to 5 minutes, or until vegetables are heated through but are still slightly crisp.  In a separate dish, heat black beans until heated through.
To serve, place cooked vegetables in tortilla and top with shredded lettuce or spinach and salsa or tomatoes.   Serve with black beans on the side.  Delicious!  Serves 3 – 4.
Related Articles:
           10 Ways That Helped Us Transition to a Plant-Based Diet
           Stages of Healthy-Style Eating
I'd love to hear from you so please comment on this recipe.